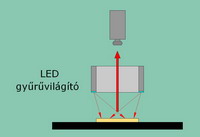 Direct illuminaton with circularly arranged LEDs optimized for a specific working distance. Product range includes Low Angle types for short distances as well as narrow beam illuminators intended for applications where getting close to the object is not possible.


Models

Technical Details

Gallery
Ajánlatkérését elküldheti a termék melletti gombra kattintva, a szükséges adatok kitöltését követően vagy - amennyiben kényelmesebb - saját fiókjából, az office@omi-optika.hu címre.
Legtöbb termékünket piros, zöld, kék és fehér LED-ekkel is tudjuk szerelni. Kérjük ajánlatkéréskor jelezze, ha a táblázatban szereplőtől eltérő színű színű világítást szeretne.
fehér, UV, kék, zöld, vörös vagy infra (NIR) fény
tápellátás: 12VDC, 24VDC vagy áramgenerátoros meghajtás (rendeléskor kérjük megadni)
standard vagy triggerelhető tápegységgel is rendelhető
folyamatos vagy impulzus üzemmód (tápfüggő)
extra hosszú élettartam
robusztus, eloxált alu vagy műanyag ház
mostoha ipari környezetben is jól használható
egyedi méret vagy kivitel is rendelhető