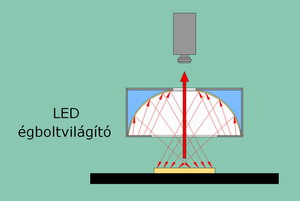 The LED dome light provides homogeneous, shadow-free illumination for examining reflective, uneven or curved surfaces. It can be used to suppress shadows and reflections caused by the surface.
We are constantly expanding our product range, but if you still can't find a product that meets your needs in the table, ask for our unique offer at the e-mail address
office@omi-optika.hu
!
Models

Technical Details

Gallery
Megrendelési szám/
Product Number
Designation
Szabad átmérő/
Free Aperture
(mm)
Befoglaló méretek/
Dimensions
(mm)
Megvilágított terület / Light field size (mm)
Meghajtás/
Input
Szín/
Colour
Adatlap/
Datasheet
Nettó ár/
Price
3-085-000
Dome Light
Ø30
140 x 140 x 67
Ø80
24V DC
Vörös
3-085-000.pdf
3-087-000
Dome Light
Ø30
Ø70 x 40
Ø50
24V DC
Fehér
3-087-000.pdf
3-090-000
Dome Light
Ø40
Ø122 x 60
Ø80
24V DC
6,8W
Fehér
3-090-000.pdf
- Send your request for a quote to
office@omi-optika.hu
by clicking on the button next to the product, after filling in the required data or - if it is more convenient - from your own account.
white, UV, blue, green, red or infrared (NIR) light
power supply: 12VDC, 24 VDC or current generator drive (please specify when ordering)
can be ordered with a standard or triggerable power supply
continuous or pulse mode (power dependent)
extra long life
robust, anodized aluminum or plastic housing can be used in industrial environment
custom size or design can be ordered