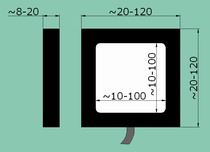 Homogeneous backlighting for high-contrast display of the contour line of objects which can also be used as diffuse lighting.
- typical thickness: 12 – 22 mm
- lighting surface size: ~< 50 mm x < 50 mm
- optimal space requirements, large surface area, compact size
We are constantly expanding our product range, but if you still can't find a product that meets your needs in the table, ask for our unique offer at the e-mail address
office@omi-optika.hu
!
Models

Technical Details

Accesories
- Send your request for a quote to
office@omi-optika.hu
by clicking on the button next to the product, after filling in the required data or - if it is more convenient - from your own account.
white, UV, blue, green, red or infrared (NIR) light
power supply: 12VDC, 24 VDC or current generator drive (please specify when ordering)
can be ordered with a standard or triggerable power supply
continuous or pulse mode (power dependent)
extra long life
robust, anodized aluminum or plastic housing
glass or plastic light field
can be used in industrial environment
optionally; lighting surface up to the edge of the house on one side
custom size or design can be ordered